Get road risk insurance quotes the easy way. Just click the green button and you can have your quotes within minutes!
Third party only
Third party, fire and theft
Fully comprehensive
Liability claims
Legal expenses
Combined policies available
Instant documentation
Can I Drive My Own Car Under a Road Risk Insurance Policy?
Road risk insurance is a vital form of motor trade cover that nearly every type of motor trade business requires.
Road risk insurance will enable you and your staff to work on customer vehicles as well as transporting them as needed. But can you cover your own car under a road risk insurance policy? The answer is yes.
In addition to road risk insurance, there are other types of cover that motor trade businesses can benefit from. Read on to find out what these are as well as some great ways to save money on motor trade insurance.
Additional types of motor trade insurance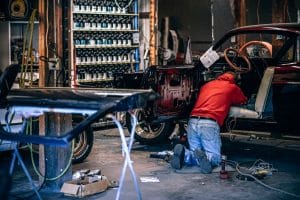 Liability claims - Liability claims can be filed against your business for a number of reasons, either from customers, members of the public or your own employees. You can get cover for all types of liability claims included in your motor trade policy. Bear in mind that if you have employees then you're legally obliged to get employers' liability insurance.
Legal fees – If you want an added level of protection then you can also get legal fees included in your policy. This will ensure that you would be able to pay for the legal costs associated with fighting a liability claim.
Combined motor trade insurance – A combined motor trade insurance policy provides a way for you to protect every aspect of your business, from vehicles to your premises, stock, tools etc.
Did you know…?
It's very easy to tailor your quotes to the exact needs of your business.
How to save money on road risk insurance
Below are some of the best ways to save money when you get road risk insurance –
Hire good staff – The people who will be working on/driving the vehicles that come into your business will certainly have an impact on how much you pay for your insurance. The best type of employees to hire from an insurance standpoint are those who are over 30 and have a clean driving/criminal record.
Pay upfront - Another way to cut down the cost of road risk insurance is to pay for your policy annually as opposed to monthly. Although a bigger down payment is required, most providers will give you a good discount for paying like this.
Shop around – Getting quotes is easy now and it's one of the best ways to get cover at a good price.
Did you know…?
Employers' liability insurance is legally required, even if you only have 1 employee on a part time basis.
Get road risk insurance quotes now
To get tailored road risk insurance quotes now simply click the green button below.